GCN:

NASA's Time-Domain and Multimessenger Alert System

GCN distributes alerts between space- and ground-based observatories, physics experiments, and thousands of astronomers around the world.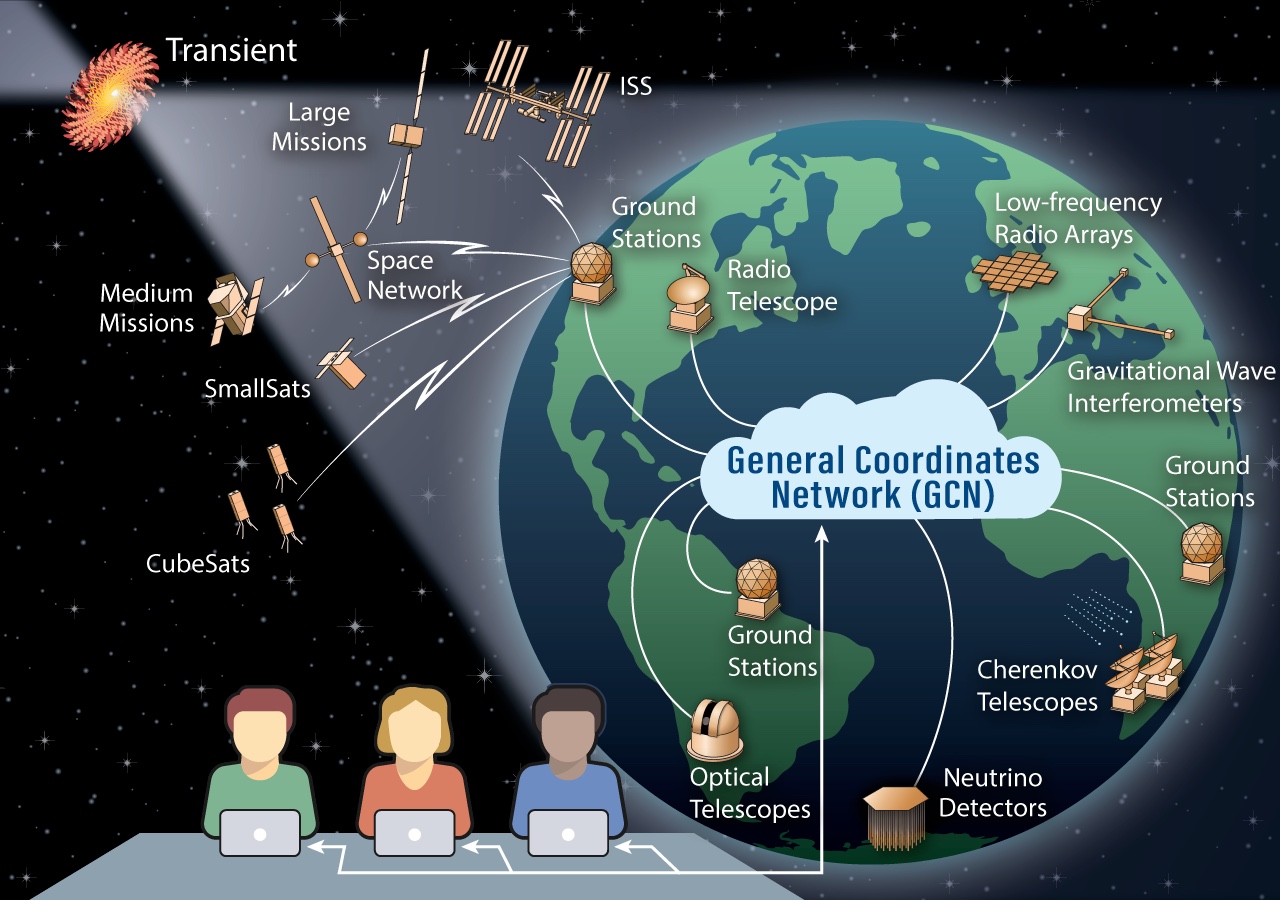 The General Coordinates Network (GCN) is a public collaboration platform run by NASA for the astronomy research community to share alerts and rapid communications about high-energy, multimessenger, and transient phenomena. For more information, see What is GCN? or check out our slide deck.
There are three ways to stream GCN Notices in real time:
For legacy applications

GCN Classic

Three formats, three protocols.

Recommended

GCN Classic over Kafka

Three formats, one protocol.

One format, one protocol.
GCN Classic
GCN Classic over Kafka
Self-service

NO.

Users need to contact administrator in order to make account and subscription changes

YES.

Manage your own account and subscription settings through this web site
Open standards

NO.

Notices are sent using three custom protocols

YES.

Notices are sent using one standard protocol, Apache Kafka
Open source

NO.

Custom software needed to receive notices

YES.

Receive notices using open-source software
Highly available

NO.

Notices are broadcast by a single server

YES.

Notices are broadcast by a cluster of highly-available Kafka brokers in the cloud
Secure

NO.

Notices are sent as plaintext

YES.

Notices are protected with SSL/TLS
NASA Honor Awards 2022: Group Achievement Award
Robert H. Goddard Award 2023
The GCN Viewer is an interactive, searchable, filterable index of all GCN Notices and Circulars, updated in real time. In the near future, it will be integrated with this web site.
See the GCN Road Map for more features that are coming soon to GCN.